Mail Room Service Center, INC can process up to 40,000 pieces of mail per hour. Learn how we can help your business or organization with your mail service needs too.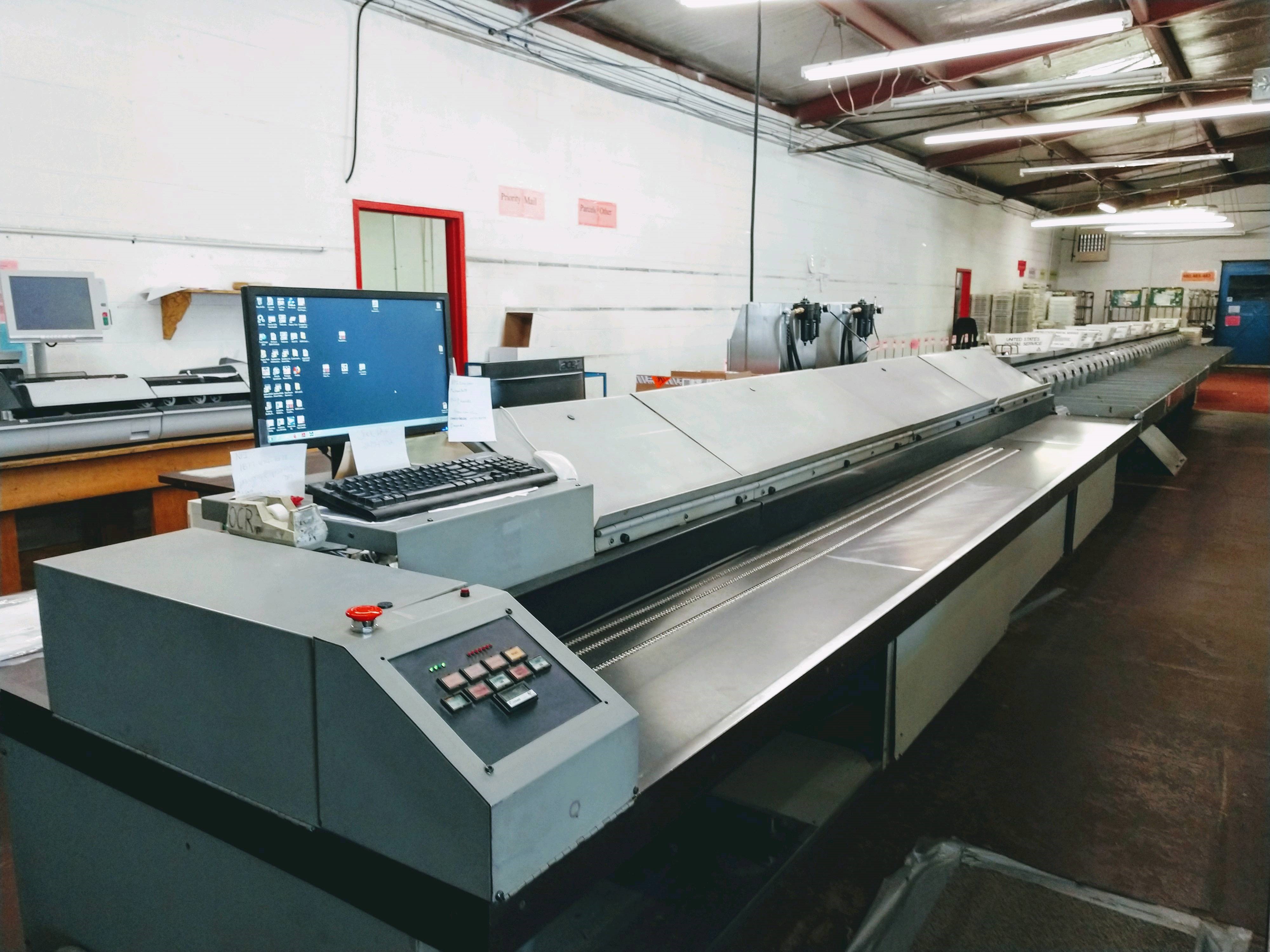 Presorting
The Mail Room Service Center has two Multi-Line Optical Character Readers (MLOCR). They can barcode and sort 24,000 to 40,000 pieces of mail per hour. Using barcodes, we're able to generate postage savings and faster delivery for our customers.
Metering Postage
The Mail Room Service Center will apply the postage to your mail, saving you the expense of leasing equipment or renting a meter. We have seven Neopost posting machines.
Tabbing
In order to obtain automation rates, or to prevent a folded self mailer from being damaged, your mail pieces should be tabbed shut. Our Neopost tabber which allows us to apply one or two tabs to a mail piece (weight of the paper determines placement of tabs).
International Packaging & Shipping
We provide international packaging and shipping services through carriers such as UPS and USPS. Packages shipped through us are insured. In addition, you may track your packages online.
Pick-Up & Delivery
The Mail Room Service Center has a large fleet of vehicles and courteous drivers to provide pick-up and delivery services. Call to schedule a pick-up today.
Inkjetting
Our Pitney Bowes gives us the ability to print addresses, permits and return addresses on envelopes, postcards and self-mailers. (flat and letter size).
Inserting
The Bell & Howell Pitney Bowes inserter allows us to insert 6 pieces at once. We can also manually insert any material that is not machinable, such as bulky mail pieces or business cards.
Folding
Letters, newsletters, and marketing brochures need to be folded before machine inserting into envelopes for postage discounts. Let us handle this tedious work for you!
Printing
The Mail Room Service Center provides printing services for items such as forms, newsletters, and invoices with variable data using our Neopost HD/CX-1700 printer.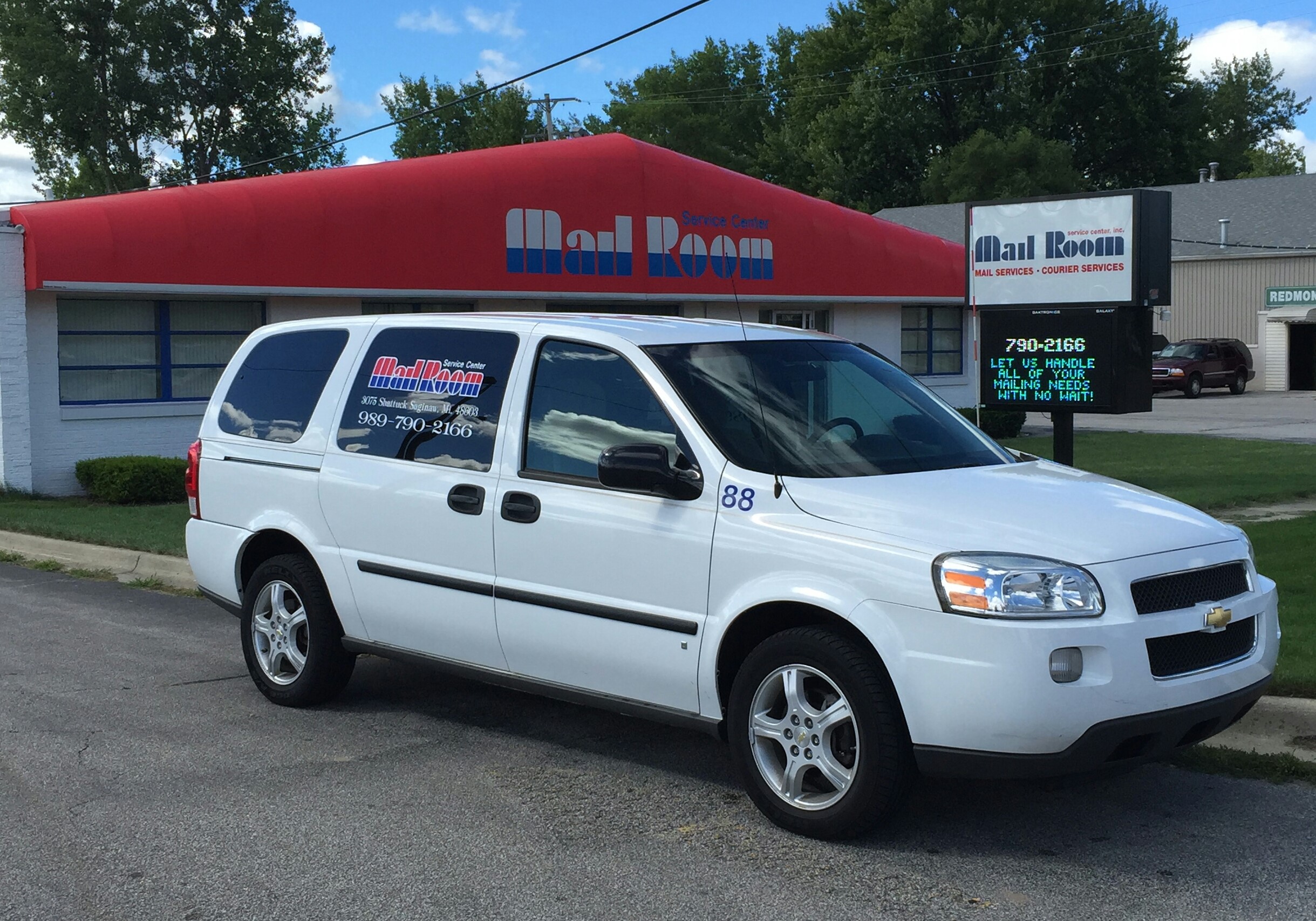 Mail Room provides a variety of courier services.
Inter-office pickup & delivery
Non-emergency medical
Bank deposits
Office supplies
Computer backup tapes and hard-drives
& much more
Bulk Mailings
Let us handle your bulk  mailing needs, including:
Billing
Invoicing
Questionnaires
& much more
Mailing List Management
We can help provide you with a list of addresses to target specific demographics. Consumer lists can include names, age ranges, income brackets, and genders as well as phone numbers. Business lists can include addresses, phone numbers as well as contact names. The Mail Room Service Center shelters your business from fees due to incorrect addresses. We're able to automatically correct addresses using up-to-date databases, resulting in your mailings arriving on-time.
Personal Mailboxes
If you're looking for an alternative to the USPS PO Box Service, you might be interested in our personal mailbox service. Personal mailboxes are useful for businesses, frequent travelers, families who relocate for winter, and many more. We are able to forward mail received as well as check your mailbox when requested.
Who We Serve
Small businesses
Large corporations
Local governments
Hospitals
Banks
Schools
Credit unions
Insurance companies
Medical organizations
Non-profit agencies
Presorting
Departmental Sorting
Metering Postage
Inkjetting
Inserting
Folding
Printing
Tabbing
Pick-Up & Delivery
International Packaging & Shipping
Inter-office, Medical, Bank Deposits, Office Supplies, Backup Tapes
Mailing List Management
Freight Forwarding
Warehousing
Record Fulfillment  & Storage
Personal Mailboxes
Coverage Areas
Our coverage area consists of many areas of lower Michigan including Midland, Bay City, Saginaw, Flint, Owosso, and Vassar. We cover areas as far north as Standish and as far south as Fenton.